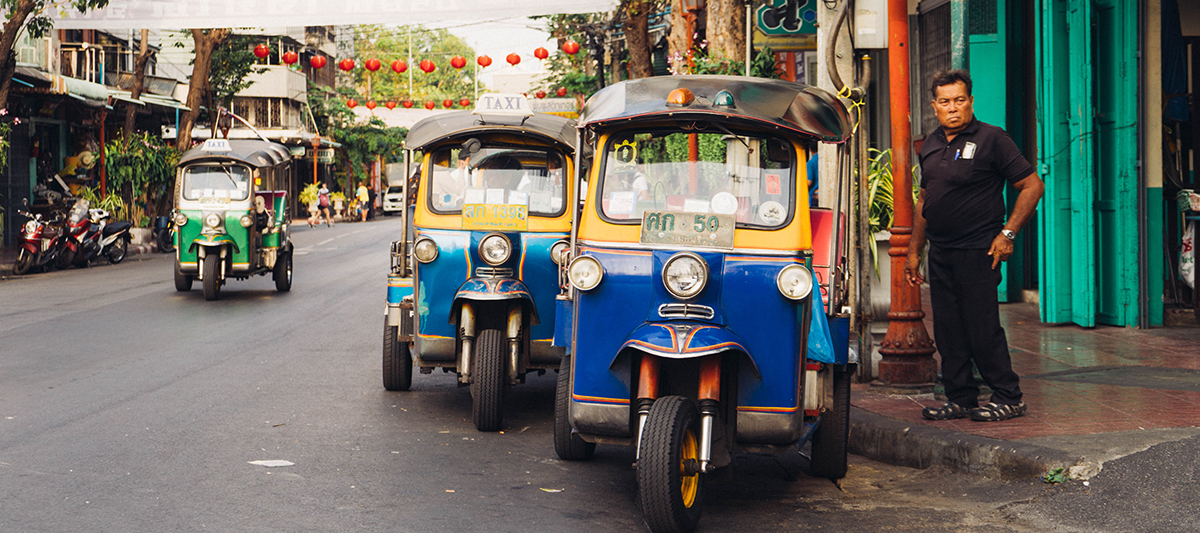 The City of Angels is as exciting as it is diverse! Bangkok is a melting pot of striking fragrances, visual pleasures and happening lifestyle.It's loud, it's noisy, it's modern and fast-moving, and at the same time it's quiet, slow and old-fashioned. It's a fusion city, a city where tradition and modernity not just meet, but mix and create something new.
It's a fascinating place. Many people who make a stopover in Bangkok for a couple of days before heading to one of the many beautiful beaches Thailand has to offer do not like it at all. All they see are decadent red-light districts, annoying traffic jams and nosy tuktuk-drivers.
But that's really just Bangkok's most outer layer – that's what is the easiest to find for a tourist who comes here. If you peel that first layer away, you will find the many other faces of Bangkok: the gentle, the kind, the cultural, the culinary, the religious and more.
Temples in Bangkok
There are so many temples in Bangkok, if you have an interest in Buddhism or religious architecture, you will love it here. The temples are built in many different styles, and the "must see" temples are the Wat Pho which features the 46 meter long reclining Buddha image and Wat Arun, which is just across the river.
Wat Trai Mit is another impressive place to see, as it houses the golden Buddha. It's the largest Buddha statue in the world made out of solid gold. And it has an mysterious history. Nobody knows for sure how old this Buddha statue is. And in fact, nobody even knew it existed until a couple of decades ago. It was once covered in plaster, probably to hide it from invading armies who where known to melt down the gold from Buddha statues. Accidentally a monk discovered that under the plaster, there was a golden Buddha, when a piece of the plaster chipped of.
Culture and History
If you want to know more about the history of Thailand and gain a better understanding of Thai culture, the National Museum is a great place to visit.
Many people also like to visit the Grand Palace, which is a huge compound that mixes architectural influences from different regions of the world.
Shopping
Seasoned shoppers love Bangkok. It's a true shoppers paradise. Do you have cash to spend? Modern shopping palaces like the Siam Paragon or Central World offer you ample opportunity to buy pretty much all the material things that one can crave for. Almost every luxury brand of the world has a flagstore at Siam Paragon, and in case you want to buy a new Lamborghini, just head to the second floor.
If you want cheap clothes and fashion accessories, you probably want to check out Pratunam, specially Platinum Mall. But Pahurat also has a lot to offer, just as Bobae.
And then there is the Chatuchak Weekend Market, also known as JJ or Jatujak market. It's the world's largest weekend market and has a very diverse mix of merchandise on offer. If you love markets, this is the one to check out.